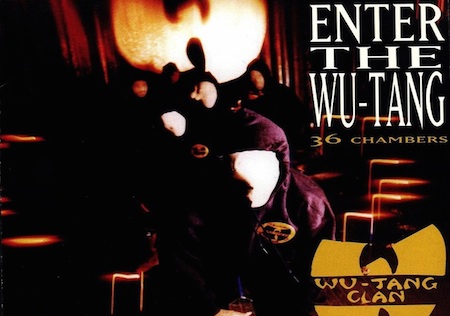 It's no mystery that we are big Wu-Tang Clan fans at LegendaryTrips! How could anyone not be? The Wu-Tang has been redefining Hip-Hop for the last 20 years and is still continuing to grow as a crew but also through the solo careers of its talented members – one of the best albums of 2013 is undoubtedly 'Twelve Reasons to Die' by Ghostface Killah!
How could one start to capture the essence of the Wu-Tang Clan? Take some music gems carefully crafted by RZA, often sampled from the most unlikely tracks, add a bunch of wild MCs with sick flows and classic lyrics that have rightfully earned the poetry label, no matter what snobs have to say, and you'll get close… But all of this would be incomplete without mentioning the ever present martial arts atmosphere, especially in their early albums like the Wu-Tang Clan debut album 'Enter the Wu-Tang (36 Chambers)' whose title is taken from a Kung-Fu movie and of course the original soundtrack of Jim Jarmusch's masterpiece movie 'Ghost Dog: The Way of the Samurai' by RZA.
If you listen closely you'll hear many references to Shaolin in Wu-Tang lyrics like in the track 'Method Man':
'From the slums of Shaolin, Wu-Tang Clan strikes again
The RZA, the GZA, Ol Dirty Bastard, Inspectah Deck, Raekwon the Chef
U-God, Ghost Face Killer and the Method Man'
So what's Shaolin?
Shaolin, besides being a legendary Buddhist monastery in China, is the name used by the Wu-Tang to designate the New York City's borough where Wu-Tang Clan members are from: Staten Island.
My favorite Wu-Tang Clan member, Ghostface Killah actually used to live in Stapleton, a neighborhood of Staten Island.
So, how about Shaolin for your next trip?
In case you are not familiar with the Wu-Tang Clan at all, below are a few good tracks to get started!