Mont Saint-Michel Winter Escape: Walk at Low Tide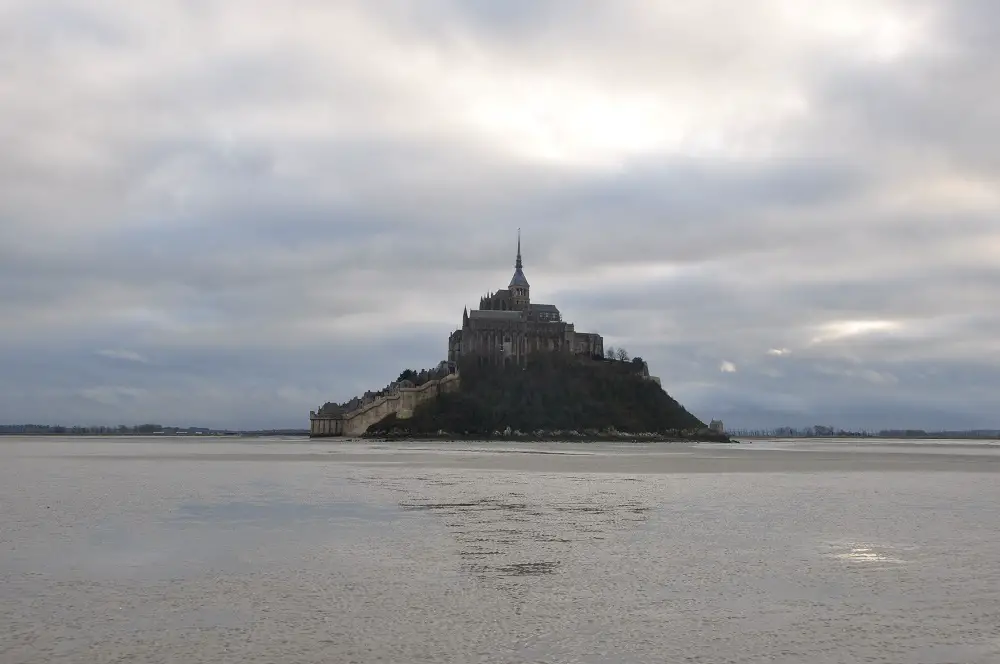 Introduction
It's this time of the year again: Christmas! When we reunite with loved ones, share delicious food, exchange little attention and, of course, watch corny movies like Elf and succumb to Tino Rossi's timeless Christmas tunes.
Christmas is also this quiet in-between time where we can contemplate what we have achieved in the last twelve months and look forward to what's ahead: new challenges, perhaps even a few resolutions.
A walk at low tide at Mont Saint-Michel in Normandy (France) is the ideal winter escape to peacefully reflect on life. Mont Saint-Michel is a magnificent island commune with a monastery dating back to 700 AD at its top. A lot has been said about Mont Saint-Michel but it can all be summarized in this one sentence by Victor Hugo: 'Mont Saint-Michel is to the ocean what Khufu is to the desert' ('Le Mont saint Michel est à l'océan ce que Khéops est au désert').
Maps
1. Start of the Walk
Mont Saint-Michel has a special relationship with the ocean: its bay has some of the highest tides in the world and it's, therefore, possible to cross it by foot at low tide. Most Mont Saint-Michel crossing tours start from the town of Genêts at Bec d'andaine. The total hike is 6 km (3.7 mi) with a pit stop about halfway at the small island of Tombelaine. Once at Mont Saint-Michel you can visit the island for a few hours and then either come back by bus or cross again the bay by walking.
Unfortunately, tour guides only offer group tours to cross the Mont Saint-Michel bay on foot from April to October. Therefore, we had to settle for a hike around Mont-Saint Michel for this Christmas winter escape. Nonetheless, it was a wonderful experience that we warmly recommend to anyone visiting Normandy during this time.
We started our walk from the west side of Mont Saint-Michel where we could see the island of Tombelaine far away in the fog.
On the west side of Mont Saint-Michel is the Saint-Aubert Chapel. This charming little roman chapel perched on top of a rock was built in the twelfth century AD.
2. Ecosystem
We then walked all around Mont Saint-Michel and reached its south side (where the main entrance is) after crossing a few streams and passing through some sticky sands. Although there's no real risk of getting stuck until chest level, sea mud ('tongue) around Mont Saint-Michel can be dangerous if you get stuck alone when the tide rises. Note that there are real and dangerous quicksands if you go further in the Mont Saint-Michel Bay. Make sure to be with a guide at all times!
Mont Saint-Michel Bay has a unique ecosystem with hundreds of different plant species growing at different places depending on how much they love water. The little patches of grass in the photo below are Salicornia, a tasty sea plant that strives in the salty ground and can stand to be fully immersed undersea at high tide. Beware: this plant is protected and it's allowed to pick up only two handfuls per person per day.
On the east side of Mont Saint-Michel, you can admire the grandiose gothic choir of the Abbey. At this moment Mont Saint-Michel appeared more beautiful than ever. I had been countless times at Mont but the grey atmosphere and the impression of infinity from the wide space left uncovered by the ocean at low tide made this experience unique. And surreal: somehow it felt like our group of walkers was intruding on the quiet private area of the sea, as if it had gone somewhere for a short while and we were lurking around, waiting anxiously for its ineluctable return.
3. Tombelaine, Polders and Sunset
After a while, the sky opened up and the sun shined through, showing Mont Saint-Michel and the Bay under delicate wintry colors.
About halfway to the coast of Normandy, northeast of Mont Saint-Michel is the small island of Tombelaine. It's now uninhabited but some ruins remain. It's a de facto nature reserve for birds – each year Tombelaine is a haven for about 35,000 seagulls. It takes about 40 minutes to reach Tombelaine from Mont Saint-Michel but we didn't go as it wasn't part of the tour. We will most definitely come back again in spring or summer to fully cross the bay on foot and visit Tombelaine at the same time!
We could also witness the polders far away in the beautiful Mont Saint-Michel Bay at low tide before sunset.
Visiting Mont Saint-Michel nowadays is to witness a historical change: since 2005, a project aiming to restore the maritime character of Mont Saint-Michel has started. In other words, the goal is to make Mont Saint-Michel a true island again, connected to the land only by a thin bridge.
This should prevent the silting of Mont caused by human activities like the building of dams. When we were there (December 2014), the Pré-Salé (salted meadows where sheep herbs are kept) was still quite close to Mont Saint-Michel but in the coming years, it should significantly recede as the sea rightfully takes back its right on Mont Saint-Michel.
Practical information
Tour guide
Découverte de la Baie du Mont Saint-Michel: http://www.traverseebaie.com
Price: 8 euros per person for a commented 3-hour walk around Mont Saint-Michel
From April to October we recommend crossing the Mont Saint-Michel Bay on foot from the Bec d'andaine in the town of Genêts ('Traversée de la Baie du Mont Saint-Michel)
Private tours allowing you to cross the Bay are also possible throughout the whole year but costs 150 euros
Access to Mont Saint-Michel / accommodation
Mont Saint-Michel is 365 km (227 mi) away from Paris (a 4-hour drive)
There's a free shuttle to Mont Saint-Michel in the town of Beauvoir. If you have a car you need to pay for parking.
We had a great lunch at the restaurant La Ferme St Michel!
Good read