New York 3-Day Itinerary: An Amazing Solo Travel Experience in the Big Apple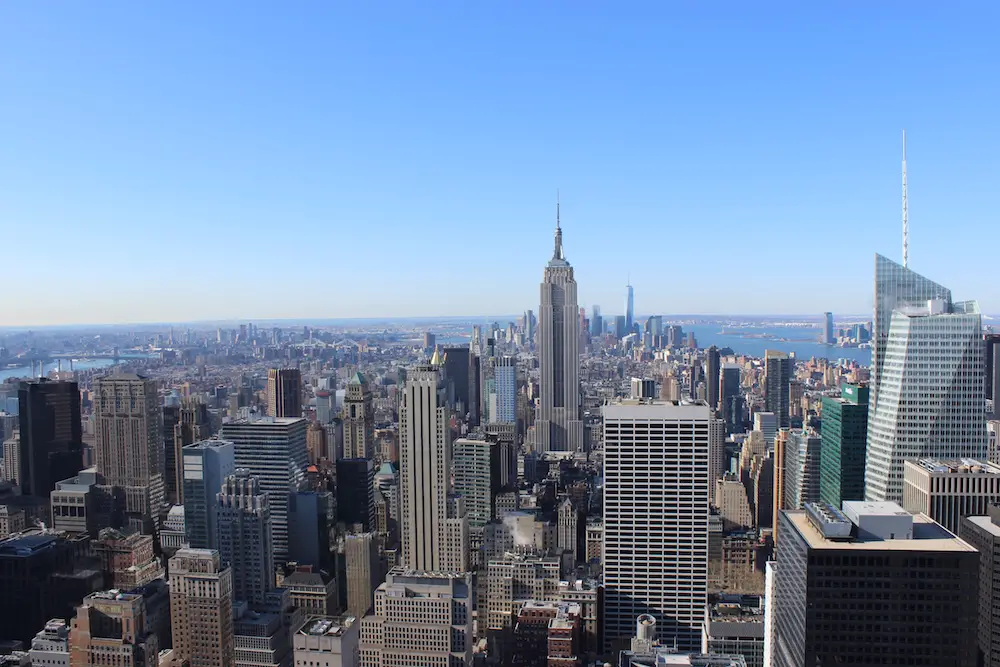 Introduction
I always wanted to see New York. Not with an acute eagerness (otherwise I would have been there already) but more as a lingering thought in the back of my head, always popping up whenever I'd read a good Paul Auster novel or watch a cool film set there (the first to come to mind is The Dark Knight Rises). In the last years I slowly started getting drawn into hip-hop music and with New York, being the birthplace of some of the best rap artists, this desire to visit the Big Apple naturally grew stronger. Nonetheless, being an outdoor guy, I couldn't resolve to spend urban holidays in New York. No matter how great I would imagine New York to be, nature, like Iceland's, would always win.
Finally, in January my boss announced that we would go to New York March to meet with a partner. New York at last. I read a few travel guides online and ask friends who have been there for advice to prepare. March came in no time and before I could realize what was happening I was already in New York, two long days of work behind me, ready to explore the city for three full days on my own.
Below is my New York itinerary in Manhattan and Brooklyn. Let's be realistic: New York is huge and three days is not enough to cover everything. The most important thing to me was to be able to capture at some point, even for the fleetest moment, what life in New York is. This itinerary is by no means perfect but I think it gave me that. It served as a great introduction and paved the way for a deeper exploration of New York next time I come back. You can be sure I will!
…and make sure to check out the full photo gallery of this New York trip!
"On his best walks, he was able to feel that he was nowhere. And this, finally, was all he ever asked of things: to be nowhere. New York was the nowhere he had built around himself, and he realized that he has no intention of ever leaving it again."

Paul Auster, The New York Trilogy
Maps
Day 1 – Morning: Ferry Cruise to Ellis Island and the Statue of Liberty
After 2 days of work, locked in an office while the sun was shining outside, I was finally free to explore New York for the very first time in my life! I had pre-booked ferry cruise tickets to Ellis Island and the Statue of Liberty at 12:00 so I had a bit of time for a stroll through Midtown to get immersed in the city and see Times Square and the Theater District. After that, I headed to the cruise organized by Circle Line. The ferry departs from Pier 83 on East 42nd Street. The ticket is $30 for a 1.5-hour cruise (half-circle itinerary) but you can get a discount if you have the New York City pass.
It was already late in the day but there was a very thick fog and it was raining – not exactly the ideal conditions for a sightseeing boat ride! It was especially frustrating since the weather was so beautiful the days before. It actually got worse once we were on the Hudson River, to the extent that everyone was worried we wouldn't get to see the Statue of Liberty at all.
The weather slightly improved and allowed me to see the outline of the Statue but it was not great. Nonetheless, it was an interesting experience with the fog and rain as well as the still water creating a surreal atmosphere.
Ellis Island, gateway to millions of immigrants aspiring to the American Dream, was also impressive, although equally trapped in a mist. That one is definitely on my list of attractions to visit for the next time I'm in New York!
I also caught a glimpse of the World Trade Center but it was quite foggy as well.
Day 1 – Afternoon & Evening: High Line, Lunch at Katz Deli, East & West Villages, Dinner at Cannibal
After the ferry cruise, I headed to the High Line just nearby on West 34th Street. The High Line is a 1.45-mile-long (2.33 km) linear park built on an elevated section of a disused railroad line. The High Line is a breath of fresh air at the center of restless West Side Manhattan. If the Big Apple is starting to wear you down after a couple of days, I warmly recommend you to take a walk on the High Line to recharge your batteries. The quiet High Line goes through some very beautiful streets in Chelsea, providing a unique perspective of New York.
I got off the High Line at its terminus on Gansevoort Street. It was already late in the afternoon and I was hungry so I took a taxi to Katz's Deli in the East Village on East Houston Street where I had a delicious and huge beef brisket sandwich. I always wanted to visit this place ever since I saw it in the video of Diggin' in the Crates by Mister Modo & Ugly Mac Beer and I was certainly not disappointed although it was a bit pricy ($18!).
After that, I strolled through the East Village and visited the A1 record shop specializing in out-of-print vinyl (also featured in the Diggin' in the Crates clip!). The day took a dark turn though when two buildings exploded just a few blocks away from the record shop. There was a huge fire and literally dozens of fire trucks, ambulances, and police cars. I didn't realize how serious the accident was then but later I learned that sadly two people died in the explosion with many others severely injured.
In the evening, I had a nice dinner at Cannibal, a restaurant on 29th Street (not far from Martha Washington Hotel) specializing in local meat and craft beers from all over the United States. I had delicious hot dogs and bacon with, of course, a few beers (I highly recommend the Flower Power IPA).
Day 2 – Morning: Financial District and Brooklyn Bridge
On day 2 of this New York 3-day itinerary, I had breakfast at the Gregorys Coffee on Park Avenue and then took a subway to New York's Financial District to see the World Trade Center, Ground Zero, and Wall Street.
From all the TV series I had watched taking place in New York's Financial District like Suits, I expected quite a busy area with fast-paced businessmen walking in all directions. Instead, I was surprised to see how calm the streets were but I guess the early bird catches the worm after all, and being outside at 11:00 is only good for gappers.
I then enjoyed the view of Brooklyn from the South Street Seaport before hopping on the massive and legendary Brooklyn Bridge connecting the south of Manhattan to Brooklyn.
Although it's quite busy, the walk on the Brooklyn Bridge is a unique experience with stunning views of the Financial District, Brooklyn, and the Manhattan Bridge. I was quite inspired by all the messenger bikes racing at high speed on the bridge so next time I will definitely rent a bike and it will be my turn to scare tourists walking on the wrong side of the path.
Day 2 – Afternoon: Brooklyn Heights, Williamsburg (And Aikido!)
In the afternoon I walked through the streets of Brooklyn Heights, pleased to finally see those classical buildings as seen in gangster movies like Goodfellas, described in Paul Auster's novels, and rapped over in hip-hop songs. My imagination and wandering nature helped to spice up a bit the succession of quiet residential blocks one after another with not many striking landmarks but overall it was not the most exciting walk. Court Street was a bit more animated but it still seemed like a world away from the busy streets of Manhattan besieged by skyscrapers.
The view of Manhattan from the bank of the East River right after the Brooklyn Bridge is not especially great so I was advised to reach Red Hook for the best view. I walked in that direction but at some point, the streets just turned desert and derelict. It looked like it was still a long way to Red Hook so I decided to turn back and take a subway to Williamsburg in the north of Brooklyn.
These wanderings were merely an introduction to Brooklyn. Next time, I will make sure to note a few places down in advance and visit Brooklyn at night, including a few hip-hop places, to experience the real vibe of this mythical borough of New York.
In the evening I visited the Shin Budo Kai Aikido dojo on 8th Avenue. The dojo is headed by Shizuo Imaizumi, a direct student of aikido founder O Sensei Morihei Ueshiba, and offers lessons almost every day of the week. It was a great opportunity to train with Sensei Imaizumi and his students for 2 solid hours. I was so exhausted and hungry after training that I dragged myself to a Chipotle for a massive burrito.
Day 3 – Morning: Rockefeller Center (Top of the Rock), Central Park
For my last full day in New York, I got up early to be at the observation deck of the Rockefeller Center (Top of the Rock) at 9:00 AM and enjoy a view of the city from the 71st story of the building. I chose the Rockefeller Center over the Empire State Building to, ironically, have a view over the Empire State and also because I suspected the waiting time would be shorter at the Rockefeller Center. I pre-booked my ticket the day before and I didn't have to wait at all. The overall experience was smooth and highly impressive with a breathtaking view of the whole city. The sight of Central Park is especially amazing; from so high the park really stands out as a beautiful green forest daunting the concrete jungle around.
I then took a subway to the Upper-East Side for a nice breakfast at Joe Coffee on Lexington Avenue before heading to Central Park for a wonderful walk. I found the Great Lawn and the Reservoir to be especially impressive but I also quite enjoyed the quiet forest paths all around. This is when I really thought to myself: I could live here. No matter how overwhelming New York would feel at times, I could always find some peace in these woods. What would Shakespeare think? Well, regardless, I'm sure the Bard would be pleased by the lovely garden built in his memory in 1916.
For lunch, I escaped Central Park on the West Side and took a subway to Tom's Restaurant on Broadway. If you are a Seinfeld fan you probably know this place as Monk's Café the fictional diner where Jerry, George, Elaine, and Kramer meet to discuss the most random things. The place was quite packed so I didn't stay for lunch. I knew this wasn't a required Seinfeld tribute since the interior scenes at Monk's Café were filmed in a studio.
Starting to feel really hungry after all this walking in Central Park, I had a delicious burger with a vanilla shake at Shake Shack. This was my second fast food joint in New York after Chipotle and I must say I was pleasantly surprised with the quality of the food: most of the ingredients were organic and really fresh in both places.
Day 3 – Afternoon/Evening: Metropolitan Museum of Art
In the afternoon I visited the Metropolitan Museum of Art or, as New Yorkers simply call it, The Met. The museum is huge and encompasses an incredible variety of art from many world regions and eras.
If you have been to the Louvre in Paris, expect a similar strenuous experience if you plan to visit the entire museum. I was already very tired from all the walking accomplished so far so I focused on Egyptian Art, European Paintings, and Modern and Contemporary Art.
No doubt I will still have a lot to see next time I visit the Met!
Practical information
New York CityPass: although I planned to visit a few paid attractions I was not sure the pass would give me my money's worth so I didn't get it but you should certainly look into it and see for yourself if it's interesting.
Walking vs. public transport and taxis: walking is quite nice to get immersed in New York by taking the time to just be in New York rather than going from attraction to attraction. However, beware that distances can be huge. If you are used to hiking, I would say 15 blocks is a good reference: beyond that take a subway or a taxi and keep the fun of hiking for nice spots like the High Line and Central Park. I have a personal preference for the subway. Besides being cheaper than taxis, I felt the subway was the perfect place to feel like a New Yorker. There, somehow, I didn't feel like a tourist.
Tipping: that's something I was anxious about, having never been to the US before. I also kept on remembering this hilarious scene from Reservoir Dogs. As a rule of thumb, tip 15-20% for any service (e.g. waiters, taxi drivers). Surprisingly, you actually get used to it quite fast.
Going to Manhattan from JFK (and vice versa): I used a shuttle service because I was on my own but I would take a taxi had I been with anyone else.
Don't pre-book tickets for the ferry cruise or Rockefeller's Top of the Rock view until weather forecasts confirm that the conditions will be optimal for sightseeing. I learned this the hard way through my foggy ferry cruise to Ellis Island and the Statue of Liberty. I compensated by booking my Top of the Rock ticket the evening before an expected sunny day.