Hiking Iceland in 2 Weeks by the LegendaryTrips' Team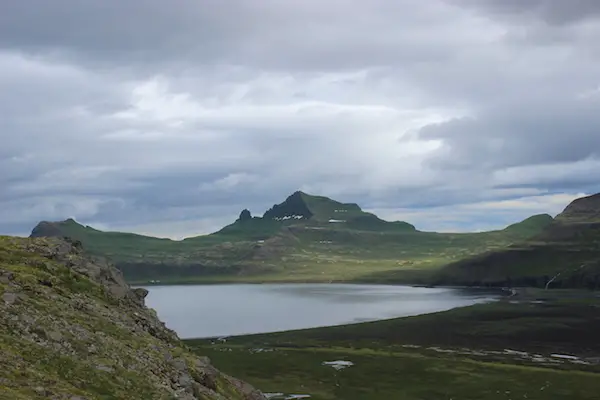 Introduction
In early 2014 we started thinking about where we could go for a great hiking adventure of 2 weeks. We first considered Nepal but landed in Iceland instead because of the cheap flight. The overall trip turned out not to be cheap at all, as Iceland is quite expensive, but we were certainly not disappointed with our choice. We have been to many places around the world and, of all those, Iceland was really one of a kind. The nature there is unique and well-preserved. Icelanders live in great harmony with nature and make sure the trace of humans is barely felt. This results in beautiful hiking trails that make you feel like you are the first one to discover them.
Not sure it's possible to transcribe the amazing experience we had in Iceland into words but here's a modest attempt with our detailed trip report and itinerary below in Reykjavic, Landmannalaugar, Skaftafell, and the Westfjords.
Make sure to also visit this dedicated gallery to see all the photos we took during our trip!
Maps
Day 1: Reykjavic
We arrived in Reykjavic late at night on Thursday. We were so excited that instead of going to bed we went to the city center to have the first glimpse of Reykjavic. It was also the perfect occasion to experience the famous midnight sun of Iceland.
On the following day (Friday), our real first day, we bought food and the equipment we were missing for the trek from Skógar to Landmannalaugar starting the next day (note: we will write a detailed blog post on the equipment we used and missed during our treks).
Once this was sorted, we explored the main attractions of Reykjavic like the Laugavegur street and the Lutheran church of Hallgrímskirkja (see photo). We also went to the strange Perlan building – sort of a large dome perched on huge water tanks – where we could admire a beautiful panorama of Reykjavic.
After that, we crossed the surrounding woods to reach the Nauthólsvík Geothermal Beach for a good cold swim followed by a bath in the hot geothermal pool. Finally, in the evening we had a great burger with Iceland beers at the Vegamót restaurant before sleeping at the Bus Hostel. We were ready to start the hiking piece of this trip to Iceland in 2 weeks!
Day 2: SKógar to Landmannalaugar Trek Leg 1 → SKógar
On Saturday we took the bus at 8:00 from the BSÍ bus terminal to Skógar for the start of our first long-awaited trek in Iceland: the Vulcano hike from Skógar to Þórsmörk followed by the most famous hiking trail in Iceland from Þórsmörk to Landmannalaugar in the southern part of Iceland's Highlands.
We arrived in Skógar at 11:00 and started the hike almost right after. The way was mostly uphill all along and we quickly felt the weight of our near-20kg backpacks. After about 3 hours our morale was severely hurt when we saw a sign indicating we weren't even halfway while we were seriously thinking about being close to Fimmvörðuháls.
Finally, at around 18:00 we reached Fimmvörðuháls, just near the famous Vulcano Eyjafjallajökull that erupted in 2010 and paralyzed most of the European flight traffic.
There we enjoyed a beautiful evening with a sunny and clear blue sky. We were even allowed by the hut warden to camp in Fimmvörðuháls although it's normally not possible due to the altitude and openness of the site that makes it vulnerable to wind and rain.
Some people actually go straight to Þórsmörk but in our opinion, it would have been a bit too much without starting early in the morning from Skógar.
Note that there's no water in Fimmvörðuháls so be sure to take enough with you if you plan to spend the night there. Another (safe) option is to drink melted snow. You also need to take your trash with you.
Day 3: SKógar to Landmannalaugar Trek Leg 2 → FimmvörðuháLS to þóRsmörk (THórsmörk)
We got up quite late (around 10:00; everyone else was already gone except the hut warden) and continued the trek to Þórsmörk. On the way, we could have a close look at the surrounding vulcanos, which were quite stunning, although it was quite foggy when we were there.
As we started to go down the trail the sky opened up and it was sunny all the rest of the way, which at some point really made us feel like we were taking a walk in the Alps.
It took us about 4 hours in total to reach the hut in Þórsmörk (Langidalur) so we had quite some time there in the afternoon and evening to chill and rest.
In Þórsmörk it's possible to take a shower for 500 ISK and you can dispose of your trash.
Day 4: SKógar to Landmannalaugar Trek Leg 3 → þóRsmörk (THórsmörk) To Emstrur/Botnar
The next day didn't start well at all: there were very strong winds and rain so the warden was advising us not to continue our trek. To quote her: 'I cannot forbid you to go but I strongly discourage you to do so'.
The weather was supposed to get worse in the upcoming days so we were likely to be stuck for a while before being able to continue which would have disturbed our entire schedule. We stayed until the beginning of the afternoon pondering what we should do.
We first thought of taking a bus to Landmannalaugar and doing day hikes from there but we were really not happy with this solution.
At some point, the weather got better and we were seeing that some people were actually going on the trail, so we also decided to try our luck out there.
The way to Emstrur/Botnar was actually not that bad, although towards the end we faced some strong winds and a bit of rain before reaching the hut. There we were lucky to get the last two spots available, which certainly saved us from a terrible night of camping.
We also had to cross a large ford with a bit of current. We take this occasion to give some advice on equipment: do not forget to take sandals with you! Crossing fords barefoot was a very painful experience for us in Iceland and also a risky one as it's easy to trip and fall in the water.
Lastly, a word about the wardens' recommendations in Iceland: we got the feeling that they try to discourage people from going as much as possible whenever the weather is uncertain (which is almost all the time in Iceland since the weather can change drastically in just a few hours). We are not hotheads but back in Þórsmörk we really felt the weather was getting better and after discussing extensively our options with the hut warden she admitted it was probably fine to go provided we had the right equipment (i.e. good hiking shoes and rainproof clothes).
So follow the wardens' recommendations but make sure the conditions are really as bad as they say they are before canceling your journey.
Day 5: SKógar to Landmannalaugar Trek Leg 4 → Emstrur/Botnar to Alftavatn
The weather was getting worse in Emstrur/Botnar and the wardens were announcing a storm around 15:00 so we tried to leave early to arrive in Alftavatn before hell would break loose.
Again the wardens tried to discourage us, but all the other travelers were continuing the trek so we decided to do the same. The way was mostly flat so it didn't take us too long (about 4 hours) to reach the next hut located just next to Lake Alftavatn.
The main difficulty of this part of the trek was the multiple fords to cross (about 3 or 4), including one with a very strong current. We were luckily helped by guides to cross it but we can imagine it would have been very difficult otherwise, especially without sandals!
To add to our luck we found places available in the Alftavatn hut. We first planned to camp there but really didn't feel like it due to the weather.
Note that a night in a hut costs about 42 EUR / 58 USD per person per night so it can quickly get expensive.
Day 6: SKógar to Landmannalaugar Trek Leg 5 → Alftavatn to Landmannalaugar Through Hrafntinnusker
On the fifth day of our trek, we left Alftavatn early (around 8:00) in order to reach the final destination, Landmannalaugar, in one go instead of staying in Hrafntinnusker for the night. The weather was really bad with a lot of wind and rain and, on top of that, we had to cross a lot of places with snow.
As a result, we were soaked wet when we reached Hrafntinnusker around 12:00 (including the interior of my shoes which was very unpleasant). We stayed in the hut to have some rest and dry up a bit before finishing our trek. We had to pay 300 ISK per person to be able to enter the hut and use the facilities to cook lunch.
At 13:30 we went back on the trail under better weather conditions which allowed us to admire the beautiful landscapes of Landmannalaugar. Mountains with stones of all colors, green, brown, even pink, fumaroles all around interspersed with icy rivers: yes, this part between Hrafntinnusker and Landmannalaugar is undoubtedly the most beautiful of the trek. It's also the easiest for hikers like us going opposite to the traditional way (to Landmannalaugar instead of from) as it is the one part where you actually descend instead of going up.
We arrived at the Landmannalaugar camping site around 16:00 which gave us some time to rest and enjoy the wonderful geothermal hot springs. The camp had quite a nice store where we were able to buy all kinds of nice food to celebrate the completion of the trek! At the same time, we felt a bit sad as we were realizing what a wonderful adventure we had just lived and that it was now over. This impression was reinforced by the many travelers who were about to start their trek the following day. But we quickly cheered up as we looked forward to the next part of our journey: Skaftafell!
Days 7-9: Skaftafell Glacier (Vatnajökull National Park)
The day after arriving in Landmannalaugar we took a bus at 15:30 to Skaftafell (Vatnajökull National Park). The ride was not cheap, to say the least: about 60 EUR / 80 USD. We arrived in Skaftafell at 20:30 and registered ourselves at the camping.
There are many hiking routes around the Skaftafell from 4 to 30 km (2.5 to 20 mi) round-trip. You can find all of the routes on this page.
The following day (Friday) we hiked the trail to Morsárjökull (Morsá glacier) where the largest avalanche in Iceland since 1967 happened in the winter of 2006-07. The weather was sunny and the walk was pretty easy in comparison to the Landmannalaugar trek although it was about 20 km (12.4 mi) round-trip.
On the following day, we already had our bus back to Reykjavic at 12:30 and were planning to get up early but ended up waking up at 9:30. We rushed out on the uphill hiking trail that leads to a beautiful view over Skaftafell glacier which is about 6.5 km (3.7 mi) round-trip.
Once on top we just had a bit of time to enjoy the beautiful spectacle and take a few photos (that you can see in the photo gallery dedicated to this trip) before literally running back to the camp to pack all our stuff.
Day 10: Reykjavic and Blue Lagoon
After a long but pleasant bus ride on Saturday through the coast of South Iceland, we were back in Reykjavic where we stayed at the lovely guest house of Monika Blondal not far from the city center. We had dinner at one of the only restaurants still open at 23:30: Meze on Laugavegur.
On Sunday we booked our flight tickets to the Westfjords, which like everything else in Iceland was pretty expensive (about 250 EUR / 340 USD for a return trip to Ísafjörður), and before you ask: no, it's not possible to go to the Westfjords by bus (at least not when we were there).
In the afternoon we took a bus from the BSÍ bus terminal to the famous Blue Lagoon. I don't know exactly how it's done but the Blue Lagoon is the one thing you see everywhere when you start researching your trip to Iceland and naturally you book it in advance expecting a thousand and one wonders.
Personally, my experience was very different: first of all, although beautiful, the place is much smaller than what the pictures let you think and is crowded with literally hundreds of people. The water is extremely warm (about 40 °C / 100 °F) which is pleasant for some time but not for hours. Don't get us wrong: the experience is interesting but we feel that 40 EUR (54 USD) excluding the bus to go there is a bit too much for what it really is. In comparison, we had a much better time at the geothermal hot springs in Landmannalaugar surrounded by beautiful mountains instead of the massive building structure that looks like your local swimming pool.
To finish the day we had good Indian food with local fish at Kryddlegin Hjortu before tasting some very good Icelandic beers at Micro Bar.
Day 11 [Westfjords]: ÍSafjörður
We had a pretty chilled day on the Monday of our second and last week in Iceland. In the morning we went to the supermarket to buy food for the trek in Hornstrandir Nature Reserve in the Westfjords. At lunch, we went to Sjávarbarinn, a fish restaurant that serves a good and cheap lunch buffet in the harbor area of Reykjavic.
After another stroll on the marina and through the city we went to Reykjavic Domestic Airport to take our flight to Ísafjörður at 18:30. The process was pretty easy: check-in half an hour before departure, no security check, and a flying time of about 45 minutes.
We were really wowed when we descended from the plane by the beautiful and unusual scenery of Ísafjörður: the city is in between tall black and green mountains that have a surface so flat it looks polished. Although the altitude is not that high, the clouds descend very low and cover cities and mountains like fog.
We had dinner in a wonderful restaurant on the port named Tjöruhúsið that serves some of the best fish we have ever eaten. It's an all-you-can-eat buffet that costs 5,000 ISK per person but it's definitely worth it, with about ten different fish, side dishes, and a delicious fish soup. We spent the night at the Managisting Guesthouse.
Day 12 [Westfjords]: Hornstrandir Nature Reserve – Aðalvík to Hælavík Through Hesteyri
We got up early in order to be at the office of Westtours at 8:00 and book the boat to Aðalvík in Hornstrandir Nature Reserve departing at 9:00 from Ísafjörður. We were quite lucky to be able to go at all since it was only the second day that boats resumed going to Hornstrandir. Before that, the weather conditions were so bad that it wasn't possible. The employee of Westtours was very nice and helped us plan our itinerary to make sure we could see as many spots as possible while being able to take a boat back on Friday (for some destinations the boat only comes once or twice a week so it's important to be careful – check here for the full schedule).
We arrived around 11:00 in Aðalvík and started hiking under a light rain and grey sky towards Hesteyri. The first thing that stroke us was that although we had a map it wasn't very easy to orientate. The beginning of the way was not marked at all but luckily there were hikers ahead of us going to the same place so we followed them. We first had a few fords to cross and then climbed to go through some mountains.  For a long time, there was no clear trail but only cairns to orientate and the way was full of sharp stones, which were tricky to walk on. We arrived a bit before 15:00 in Hesteyri and had a generous lunch: a cereal bar and a few dates (pretty much the same lunch diet as in Landmannalaugar).
We were tempted to stay in Hesteyri for the night but the employee of Westtourds had planned something else for us: we had to get to Hælavík that same day in order to be on schedule for the return boat on Friday at Veiðileysufjörður. So we headed back on the trail (or the lack thereof). We immediately had to cross a ford and then climb a very sharp snowy mountain pass. We only made it to the top by carefully planting our feet in the snow. After that, we had to go up a bit further to reach the end of the Hesteyri fjord. Then it was a long, very long, way down to Hælavík. We cursed a few times at the employee of Westtours for advising such a long way in just one day (about 24 km in total with some elevation to be taken seriously!).
Finally, we arrived on the shore of Hælavík around 22:00. We immediately forgave the Westtours employee when we saw the stunning landscape that awaited us. The sun was already gone so there was this strange yet beautiful dimmed light casting on the cliffs of Hælavík. There were also huge piles of wood logs on the beach that we imagined were from earlier settlements (Hornstrandir used to be inhabited). All this and the fact that we were the only ones there gave us this surreal impression of being at the end of the world. We reached the camping site where there were just two other tents. We quickly planted ours and hungrily ate a full pot of pasta. We even allowed ourselves a bit of luxury and had instant coffee and Oreos for dessert. Before going to sleep we were greeted by an arctic fox walking around between the tents without a care in the world.
Day 13 [Westfjords]: Hornstrandir Nature Reserve – Hælavík to Hornvik
The way to Hornvik was a walk in the park in comparison to the previous day. We left around 11:30 after a good night's sleep and arrived at our destination around 16:00. Still, we must warn travelers of a dangerous part of the cliff trail before arriving in Hornvik: there's a part where the ridge is broken with a very slippery surface, which makes it very difficult to cross, especially with heavy backpacks. We somehow managed to jump over but this was certainly not a safe option. We saw other hikers reaching the trail from another path above the one we took, so we would advise you to take that one instead: when arriving near Hornvik just try to avoid descending to the shore as much as possible and follow the trail there that will eventually lead you to the coastal trail.
Hornvik, also known as the King and Queen cliffs because of its very distinctive shape, is certainly the most beautiful place we have seen in Hornstrandir Nature Reserve. However, because of that beauty you kind of miss the whole wild and deserted feeling that you find otherwise in Hornstrandir because of all the people it attracts (there were at least twenty tents). Nonetheless, it was fantastic and we wished we had an extra day to hike the trail on the Hornvik peninsula which takes about 5-6 hours. In the evening we saw an arctic fox walking around with a bird in its mouth.
We followed her from a distance and discovered she actually was living under the warden's hut with her cubs (see this photo).
Day 14 [Westfjords]: Hornstrandir Nature Reserve – Hornvik to VeiðileysufjöRður
For our third and last day of hiking in Hornstrandir, we had to reach the Veiðileysufjörður fjord where the boat was supposed to take us back to Bolungarvik. The way was very beautiful, especially with the view of Hornvik after climbing. As that's often the case in Iceland, the sun was then fighting to shine through the dense clouds and the result of that battle was an explosion of splendid colors.
This is where we took (in our opinion) our most beautiful photos of Iceland.
A bit less than a couple of hours after leaving Hornvik we reached the mountain pass that was leading to Veiðileysufjörður.
Everything looked so easy; the fjord was right in front of us and we thought we would be there in an hour and a half at most. After a few steps though we saw a huge wall of snow descend. Please believe that we are not exaggerating when we say it was almost vertical and 30 m (100 ft) tall.
We descended to the right but realized it was way too sharp to continue directly so we continued horizontally instead, carefully planting our feet in the snow and putting the weight of our body and backpack against the slope.
The feeling was really horrible; at that point, we really thought we would fall and hit the rocks below. Each movement had to be precise and was draining our forces. Even worse: we were reaching an area made of ice where it was becoming impossible to safely plant our feet for support. Robin sat down to rest and had the idea to slide down on his butt instead. He slowed down the descent with his feet and made it safely to the bottom. On my end, I was too petrified to do the same, although Robin made it look very easy. I continued my painful horizontal climb. I was focused on each of my movements, conscious that any mistake could have the worst consequences. I was in the zone, listening to any signal from my body, even using my knee to be more stable.
Finally, I made it safely to the rocks on the left. The rest of the way was much easier and we soon arrived at beautiful Veiðileysufjörður. We were the only ones there besides a Belgian hiker who was also taking the boat the next day. The weather was fantastic and we had a great time chilling in the sun while admiring the beautiful landscape of the fjord.
Days 15-16: Reykjavic/ Flight Back Home
The good weather in Veiðileysufjörður did not last though and around midnight we were wakened up by very strong winds and rain. The tent was totally folded on one side and for a moment we thought it wouldn't resist the night, especially since these conditions continued all night, but it held good!
In the morning the Belgian guy came to tell us he was doubting the boat would come in such weather. We heard of people being stuck in Hornstrandir for three days the week before when the weather was really bad, so we started to worry the same might happen to us.
The boat was planned for 10:30 and at 11:00 there was still no one so we got even more worried. Luckily around 11:30, we saw a little dot moving on the water between the two mountains of the fjord: the boat had finally arrived!
We flew back to Reykjavic in the evening. We were seriously craving burgers so we went back to Vegamót for dinner. After that, we had a few drinks at the Kaffibarinn hoping to see Björk but she wasn't there! We stayed at the Bus Hostel for the night.
Our final day in Iceland in Reykjavic was a chilled wrap-up of the trip: we bought souvenirs (some famous Icelandic wool pullovers for the misses) and visited the Harpa Concert Hall. In the evening we watched the football games between Netherlands and Brazil for the third place in a bar where we had yet another delicious burger. Early the next day we flew back home, impressed beyond words by the beauty and wilderness of the nature witnessed throughout Iceland.