Peru and Bolivia in 3 Weeks: Machu Picchu, Colca Canyon, Salar de Uyuni… – by RWK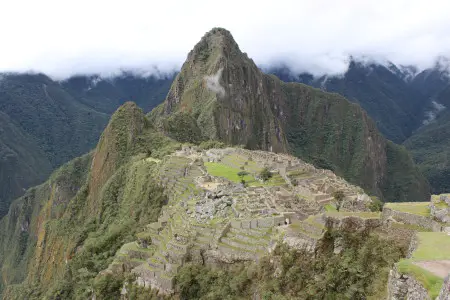 Introduction
This is a 3-week / 20-day trip to Peru and Bolivia I took with 2 friends from October 13rd to November 2nd, 2013. It was really awesome and I would recommend it to anyone although some things could be changed (see itinerary details).
Favorite destinations of the trip (by order):
Salar of Uyuni and its surroundings (especially the lagoons)
Advices:
Manage your time wisely: 20 days (3 weeks) is really not that much time to cover all the destinations on this trip in detail so I really recommend using the plane whenever possible/affordable to save time.
Book your accommodation in advance in popular destinations if you don't want to spend too much time wandering around to find a place that is not fully booked (this happened to us in Cusco).
Maps
Day 1: Lima, Peru
We landed in Lima very early (4 AM) and after a quick nap at the hostel, we started visiting the city. We started with the historical city center and saw the Catedral and the Basilica y Convento de San Francisco de Asís.
We then headed to Huaca Pucllana where are located amazing ruins from the pre-Inca period (Lima civilization).
In the afternoon we went to see the Pacific Coast and walked on the beach until sunset. For dinner, we had some awesome Ceviche in a place called Cordano (called Jirón Ancash in the center).
For the night we stayed in Lynik Casa de Blanca, a little hostel located a bit away from the center but with very welcoming hosts and nice facilities.
Day 2: Pucusana & Ica, Peru
Pucusana is a little fishermen's town, about 1 hour and a half from Lima by bus. The town itself was not very impressive but we took a boat ride around the island where we saw sea lions. The cliff of the island was also quite impressive.
Nonetheless, most people actually recommend seeing Paracas, which is supposed to be like Pucusana but even more beautiful and with richer sea fauna, so if we had to do it again I think we would have headed there instead.
After lunch, we took another bus to Ica (about 4 hours) and spent the evening there (dinner at Restaurant Plaza 125 and night at the Hotel Sol de Ica).
Day 3: Ica & Huacachina, Peru
Ica is mostly famous because it's near Huacachina (30 minutes taxi ride), a beautiful oasis in the middle of a sand desert. We did sand surfing and buggy there which was quite fun. The buggy was quite impressive although sometimes really scary!
In the evening we took an 18-hour bus to Cusco (!). We used the company Cruz del Sur which was really comfortable (Cama bus).
Note: most people go to Arequipa before Cusco because it's easier but we didn't because on Google maps Ica-Cusco-Arequipa looked more natural. So don't make the mistake, save time and go first to Arequipa and then Cusco.
Days 4-5: Cusco, Peru
After a long bus ride, we arrived at around 7 AM in Cusco. We looked for a hostel there but the 2 first ones we checked from the guide were all booked. On our 3rd attempt, we finally managed to get a room at Cusi Wasi. While it's not needed in most towns I would really recommend booking your accommodation in advance in Cusco.
We followed our travel guide there and visited the main spots (Plaza del Armas, Catedral Basílica de la Virgen de la Asunción and la Calle Hatun Rumiyoc).
In the evening we ate in a very nice restaurant named Granja Heidi. The next day we visited la Iglesia de la compañía de Jesús and la Iglesia y monasterio de la Merced.
We then headed in the afternoon to the Inca ruins of Písac by taxi. Finally, after this busy day, we ate an Alpaca burger in Fuego (okayish).
Day 7: Machu Picchu, Peru
Here it is: Machu Picchu! We got up at 4 AM and started to walk towards Machu Picchu to reach the Ruinas bridge and checkpoint that opens at 5 AM. After that, we had to climb 1716 steps (400m high) to be at the entrance of Machu Picchu before the opening at 6 AM.
We walked around the site and at 7 AM we started climbing Huayna Picchu (the mountain you see in all the Machu Picchu pictures). We rushed because of the rain and were at the summit at 7.30 AM. The mountain was in the clouds and it was impossible to see Machu Picchu then so we waited 3 good hours to finally be able to see something. We then descended and visited Machu Picchu in detail.
We didn't take a guide but retrospectively I think it's a good idea and it's not even that expensive. We also walked until the Inca Bridge where you can see quite an amazing panorama of the valley surrounding Machu Picchu.
At about 3.30 PM, extremely tired and hungry (we didn't have lunch) but with eyes full of stars, not fully realizing yet the beauty and grandeur of what we had just sawed, we took a bus back to Aguas Calientes. We didn't walk back only because our train back to Cusco was at 5 PM. We spent the night at Cusco in the same hostel (Cusi Wasi).
Day 8: Arequipa, Peru
To save time we traveled by plane to Arequipa instead of by bus. We arrived in the late morning and checked in at Hostal Solar de Arequipa. We visited la Plaza del Armas and el Monasterio de Santa Catalina. Unfortunately, our time was limited because we had to find a tour starting the next day to visit the Colca Canyon (Cañon del Río de Colca).
It was Sunday and most agencies were closed which made it somewhat difficult but finally, after checking different agencies, we found a good one called EcoTours.
Don't listen to the agencies that tell you it's not allowed to descend in the Canyon, it's just not true and they often say it because they are not specialized in trekking tours but want to get your business anyway.
In the evening we ate in a very nice restaurant with a wide variety of potato dishes: Hatunpa.
Days 9-10: Colca Canyon, Peru
For me, this is definitely the highlight of the trip after Machu Picchu. The tour bus picked us up very early (4 AM) to reach Chivay where we had breakfast. After that, we stopped at the mirador 'La Cruz del Condor' to admire condors flying and have a first look at the Colca canyon (second deepest in the world, deeper than the Grand Canyon in the United States).
We then descended the Colca Canyon which represents about 18 km of hiking. We arrived in the afternoon at around 4 PM. There we enjoyed a nice swim in an oasis (Sangalle) with water from the torrents around before having a few drinks, dinner, and going to bed early to be in shape for the way back the next day.
On the second day of the tour, we got up early (6 AM) to climb back the Colca Canyon. It was only 6 km but the way up was 1 km, so it took us about 2 hours and a half to make it.
After that, we had breakfast in Cabanaconde and took the bus to visit the surrounding area where we bathed in thermal waters, saw Inca tombs and terraces, and went through a natural park with plenty of Alpacas.
Day 11: Copacabana (Lake Titicaca), Bolivia
We were planning to take a night bus to Puno the night after going back from Colca Canyon or the next day in the morning but, unfortunately, due to strikes, all the buses were canceled so instead we took a plane to La Paz. As soon as we landed we took a but straight to Copacabana where we spent the afternoon and the night.
We stayed at Hostal La Cúpula which was very good with a nice restaurant. The sunset on Copacabana was especially beautiful.
Day 12: Isla Del SOL (Titicaca Lake), Bolivia
In the morning we took a boat at 8.30 to Isla del Sol. We debarked on the north of the island and started to walk towards the south.
The trail was just beautiful: you are on top of the island and can view Lake Titicaca on both sides of the Isla del Sol. We reached the south of the island in the middle of the afternoon and had lunch.
We found a little hostel overlooking the port. There was no heat but this was forgiven with the splendid view and the very kind hosts. In the evening we had dinner at Las Velas, a small restaurant on top of the island (4,010 meters high) run by a gourmet chef.
There was no light in the restaurant, just candles; no waiters, only the chef slowly cooking with an old transistor playing in the background. The atmosphere was great but the food itself was divine: our best meal of the trip. By far. The friend who was with me (the other one was sick) ordered the trout cooked in the oven and I have to say it's one of the best I have ever had. I took the steak and it was also very good – tender and with a very fine sauce – but that trout was really something exceptional. After that, we talked a bit with the chef and he showed us the stars outside that appeared so brightly in the cloudless night. Quite an evening.
Days 13-15: La Paz, Bolivia
At 10.30 AM we took a boat back to Copacabana. After lunch and the last walk-in Copacabana we took a bus to La Paz and arrived in the evening. We stayed at Estrella Andina and had dinner at the Colonial Pot. Food was good for the money but not outstanding.
The next day (14), we visited La Iglesia de San Francisco, the old colonial neighborhood, and la Plaza Murillo. We also booked our 3-day tour in Uyuni with Oasis tours.
In the evening of that day, we had a very good dinner at La Comédie and went out to a bar/club called La Malegria. It was a nice evening although I have to say altitude, alcohol, and food poisoning don't add up well.
During our last day in La Paz we went to visit los Museos Costumbrista, del Litoral Boliviano y la casa de Murillo. In the evening we had dinner in Tambo Colonial before taking a night bus to Uyuni.
Days 16-18: Uyuni Tour, Bolivia
The tours of Uyuni are pretty much all the same so I won't go into too much detail. What I can say is that the tour company we picked (Oasis Tours) provided a very good experience. The driver was really friendly and knowledgeable and the places we stayed were fine.
On the first day, we saw the train cemetery, the Salar of Uyuni, and the Isla Incahuasi. The Salar of Uyuni was very impressive although from the pictures I had seen I was expecting something even more stunning.
The next day we got up at 4 AM and drove through the rest of the altiplano of Bolivia. We saw Salar de Chiguana, the Volcán ollague (vulcano) and many lagoons with flamingos.
Finally, we saw the famous Árbol de Piedra and stayed in a place near a magnificent lagoon (Laguna Colorada) with an amazing red color (and more flamingos).
On the last day of the tour, we saw volcanic geysers and bathed in thermal waters before driving back to Uyuni through Dali's desert (Desierto Dalí), Valle de Rocas, and San Cristóbal.
Back in Uyuni, we took a night bus to Sucre.
Day 19: Sucre, Bolivia
We arrived at 3 AM in Sucre and checked in at La Escondida Hostal for a good night's sleep.
The next day was quite chilled – perfect to recover from the 3 days spent in the car for the Uyuni tour. We started by visiting la Plaza  25 de Mayo and wandered around town since most places were closed until the afternoon.
We had lunch in Los Balcones Plaza. The food was not that good but it was saved by the great view of the plaza.
In the afternoon we climbed up the city to reach el Convento y Iglesia de la Recoleta. Unfortunately, it was closed that day but at least we could admire the panorama of the city.
We then went back to the center and visited la Catedral and la Casa de la Libertad where we learned that Sucre is the official capital of Bolivia and not La Paz.
At sunset, we had a walk-in el Parque Bolívar. We had dinner at the Joy Ride Café where we had good tacos and a lot of cocktails. We then finished the night in Florin, a very nice bar with the ideal mix between tourists and locals.
Day 20: Santa Cruz de la Sierra, Bolivia
We took a plane from Sucre in the morning to avoid another long ride on the bus (15 hours). The flight in comparison took us only 30 minutes and cost a bit less than 40 euros. The last day in Santa Cruz was not the happiest of the trip.
It was the last one and we were in this city only because of its airport but we tried to make the best of it. The first thing we noticed was the change in climate: Santa Cruz is quite low in comparison to the other places we visited in Bolivia (about 500 meters) so the atmosphere was quite warm and humid.
To treat ourselves and relax before the long flight home we booked a 4-star hotel with a sauna and swimming pool (Urbari Apartment Resort). We had a good lunch in La Republica and after a quick walk in the city center, we returned to the hotel to rest.
For our last meal of the trip, we picked a Swiss restaurant 'Chalet La Suisse', and had quite a good fondue along with a few bottles of white wine. We reminisced about the trip and shared our highlights – good time 🙂