The Shining Filming Locations: Here's Johnny… in Oregon, California, and Montana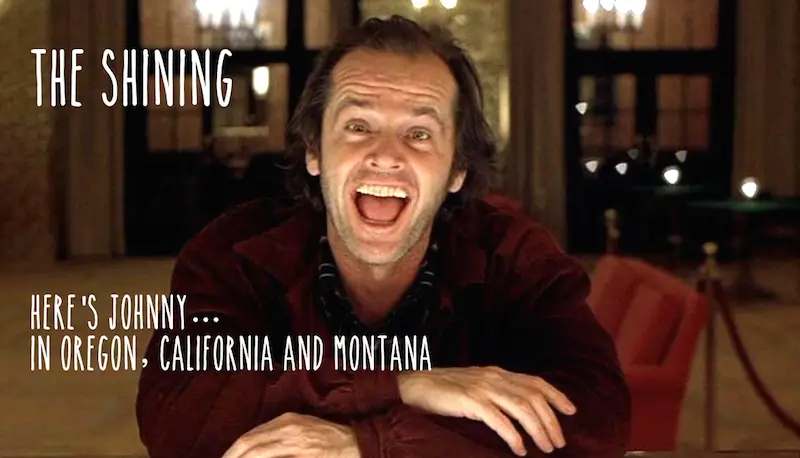 Introduction
Discover the filming locations of Stanley Kubrick's horror masterpiece The Shining in Oregon, California, and Montana. The movie stars Jack Nicholson as Jack Torrance, a blocked writer who takes a job in an isolated hotel hoping to find inspiration. He retreats there with his wife and son during the off-season but becomes gradually mad under the spell of the haunted Overlook Hotel.
Before you go looking for Jack, don't forget:
All work and no play makes Jack a dull boy!
Related links/sources:
Wikipedia
IMDb
Maps
1. Overlook Hotel
Exterior: Timberline Lodge, Mount Hood, Oregon, United States
The exterior of the Overlook Hotel where Jack takes his son and wife to work as an off-season caretaker is the Timberline Lodge in Kubrick's The Shining. It is a mountain lodge located in Mount Hood about 90 km / 60 mi from Portland.
Interior: Ahwahnee Hotel, Yosemite Park, California, United States
Besides in the Elstree Studios in Hertfordshire (UK), some of the interior scenes were shot at the Ahwahnee Hotel which is located in Yosemite National Park in California. The majestuous but also menacing dining room where Jack dialogues with a hallucinatory barman in one of the scenes belong to the Ahwahnee Hotel – perhaps the most important of The Shining filming locations.
Little pigs, little pigs, let me come in. Not by the hair of your chiny-chin-chin? Well then I'll huff and I'll puff, and I'll blow your house in. [axes the door]

Jack Torrance
2. Driving Scene
Lake McDonald, Glacier National Park, Montana (United States)
The happy driving scene at the beginning of The Shining where the Torrance family heads to the Overlook Hotel was shot on the eastern shore of Lake McDonald in Glacier National Park (Montana).
The calm before the horror. Happy tripping!
Perhaps they need a good talking to, if you don't mind my saying so. Perhaps a bit more. My girls, sir, they didn't care for the Overlook at first. One of them actually stole a pack of matches, and tried to burn it down. But I "corrected" them sir. And when my wife tried to prevent me from doing my duty, I "corrected" her.

Delbert Grady
3. The Maze
MGM Borehamwood Studios, Hertfordshire, England (United Kingdom)
Unfortunately, neither the Timberline Lodge nor the Ahwahnee Hotel has a maze. The one you can see at the end of the movie when… ok no spoiler! was actually built in the old MGM studios in Hertfordshire.
Heeere's Johnny!