#RumTheWorldTour – Episode 4: Cuba – Back to the future – but for how long?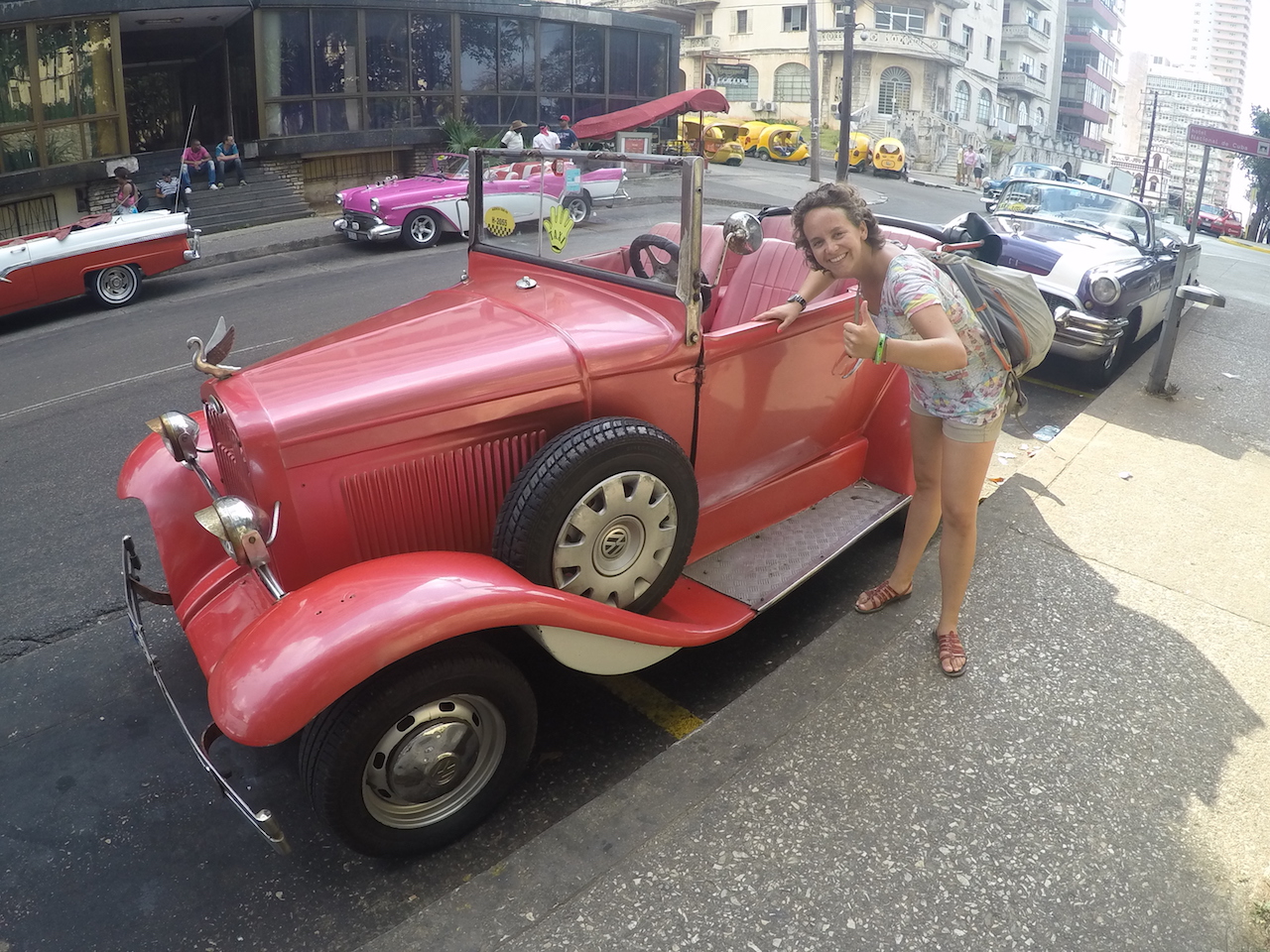 This article is part of the "Rum the World Tour" by Laura (but call her LOLO!), who embarked on a Rum trip around the world and is sharing her experience on her blog and LegendaryTrips!
Previous articles:
#1 Introducing the extraordinary adventures of Lolo in 15 countries!
#2 RumTheWorldTour – Episode 1: Exploring Trinidad
#3 RumTheWorldTour – Episode 2: Hello Saint Lucia!
#4 RumTheWorldTour – Episode 3: Visit Dominica!
---
Quick links
See the map | Read the story | Discover the pictures
---
Map
[codepeople-post-map]
Story
Hi LegendaryTrippers,
I am still on the road with my Rum The World Tour, and now I am going to tell you a bit more about this "out of time" island: CUBA!
As you know, Cuba is one of the last Communist countries in the world and, from my perspective, that's one of the reasons that makes this country so special… so "out of time"… and a great break during my Rum The World Tour! It is difficult to describe in one article how great is this country, but let me give you 3 reasons to visit Cuba. I hope that after reading this post, you will want to learn more about Cuba and consider travelling there!
1- An island full of history and culture
Havana seems to be on hold since the 60's. Before 1953 (and the beginning of the Cuban revolution led by Fidel Castro and his army), la Havana was "the place to be" for rich Americans, every holidays, Miami's jet set used to travel to Cuba to enjoy the "slow path", the modern Palaces and the vibrant cultural life. Today, this past is all around you when you walk in the old Havana; buildings are still standing, but the passing years (50+ of them) have damaged most of them leaving an old and unique atmosphere in town!
2- A beautiful island: so much to see and to visit!
Cuba is a huge, long island and, let me tell you, there is a lot to see! If you have time (let's say at least 3 weeks), it is pretty easy and relatively cheap to travel with buses (e.g. Viazul – the bus company for tourists). As I (always) want to help, here is my Cuban itinerary with some comments/recommendations:
– La Havana (5 days) – An "old" city with so much happening e-ve-ry day – To do list: walking in the streets, getting lost, eating in the street – drinking Mojitos and Daiquiris – visiting museums – exploring the new city (modern, younger) to find good bars/restaurants/clubs to hit (some of them: el cocinero / la fabrica de arte), visiting the Havana Club Museum, drinking rum (again!), dancing salsa, smoking cigars… Wow!
– Viñales Valley (2 days) – Beautiful countryside – To do list: hiking with a guide or riding to the mountains ("mogotes"), the caves and fields of tobacco – unique colors and a great opportunity to talk with local people
– Pinar del Río (1 day) – A nice stop on your way to Viñales, where you can go out & dance salsa, drink rum and smoke cigars with young Cuban people, as well as visit a cigar factory (Robaina Cigars)
– Cienfuegos (1 day) – Nice coastal town with a French quarter, as it was settled by French immigrants in 1819 – To do list: go to the Punta Gorda and find the Mojito House in the parc (best mojito of my life – the technique for mojito making is absolutely terrific!!!)
– Trinidad (2/3 days) – A touristy village, but it's easy to understand why – absolutely lovely "ciudad" where the center has been well renovated, houses are colorful and atmosphere in the streets is what you can imagine when dreaming of Cuba: horses and calèches, music, salsa, beautiful architecture
– Santa Clara (1 day) – the Che Guevara town – full of history – feeling and smelling: 100% Communist – great to spend one day to visit the museum and mausoleum in honor of Che Guevara
– Cayo Largo Del Sur (2/3 days) – Welcome to a very touristy island, but still amazing, this is for me the most beautiful beach I have ever seen in my life!!! There is 2 ways to get there: by private boat or with a tourist package that includes the flight, one (or more) night(s), all of the food for the duration of your stay. This package can be bought at the travel agencies of the main hotels in La Havana. For two full days and one night, the cost is approximately €200, but the beauty of this island is worth that amount: the beach is like heaven: white-white sand (like sugar), blue-blue water, palm trees, large beach, I can't describe it, a photo will do the job!
– Santiago de Cuba (2 days) – I have to admit that I was a little bit disappointed here, because I was expecting much more of the 2nd town of the country. But after you've spent some time in the great Havana, it is quite difficult for another town to compete in your mind…
– Cuba (4/5 days) – My favourite – last city in the eastern Cuba – This town has a spirit of a village and is very easy going – To do list: renting a bike to go to desert beaches and rivers, hanging out around the city, talking with locals, going to the terraza for a cabaret show made in Cuba (a must-do…), spending a crazy night in the club at the top of the town.
3- Warm and very friendly people
If you want to experience the Cuban life, forget the hotel and go to Casa Particular (for €15/20 per night) you will stay in the house of a Cuban family. This includes dinner (usually very tasty) and breakfast. You will learn so much about Cuba with them, even if it is difficult to make them talk about Fidel… Don't be afraid to talk to people in the street, eat in small street food corners (€1 for the lunch), to dance salsa with cubanos, invite them for a glass of rum or a mojito… and you will get THE Cuban experience!!!
Here is a good Casa Particular address in La Havana: Enrique – 513 Aguacate – sol y murata – Havana vieja – tel: 8676400. Do tell him the following: "he leido el articulo de LOLO que ha hecho una vuelta del mundo del ron y que dice que tu eres muy sympatico y el lugar muy bonito!".
That's all folks, enjoy Cuba! And the next stop for me will be Central America!
Let's Rum The World Together,
LOLO
PS. Learn more on rums and Lolo's adventures by visiting her blog at rum-the-world.blogspot.fr
Pictures