Sideways Filming Locations and Itinerary (2004)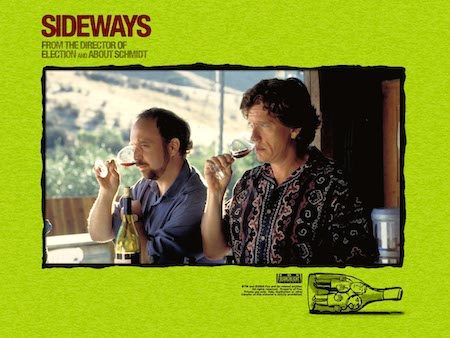 Introduction
Ever dreamed of going on a wine road trip with your best buddy? Director Alexander Payne takes his characters Miles and Jack on an itinerary through Santa Barbara's Wine Country in Sideways (2004), a dark comedy about midlife crisis. A great film that doesn't require a special interest in wine to be appreciated, Sideways is also a beautiful ode to friendship and adventure.
If you like Alexander Payne, make sure to also see the filming locations and itinerary of Nebraska (2013).
For a more extensive itinerary with travel advices, check out also this nice map put together by Visit Santa Barbara.
Maps
1. San Diego
Santa Barbara
Sideways starts with a scene showing Miles (Paul Giamatti), the main character, in his natural habitat in San Diego. Like most of the other Sideways filming locations, the actual place is in Santa Barbara.
Very late, Miles heads on to Los Angeles in his shiny red Saab convertible car to pick up his friend Jack (Thomas Haden Church) and start an exciting wine road trip through Santa Barbara's Wine Country.
2. Holiday Inn, Brentwood
170 North Church Lane, Brentwood, Los Angeles
On his way, Miles passes by the Holiday Inn in Brentwood, famous for hosting Robert De Niro in Heat (1995) directed by Michael Mann.
3. Oxnard
San Luis Obispo
Miles and Jack start their journey but not without first visiting Miles' mother in Oxnard (actually San Luis Obispo).
4. Windmill Hotel
Days Inn Buellton, 114 East Highway 246, Buellton
For the first night of their road trip, Miles and Jack stay at the very kitsch Windmill Hotel. In real life it's the Days Inn in Buellton.
5. Hitching Post II
406 East Highway 246, Buellton
They have dinner at the Hitching Post II, a restaurant where Miles is a well-known patron. There, he recognizes Maya (Virginia Madsen), a waitress he has a crush on. Jack helps him out but Miles' depressive mood puts an end to the evening and the pair heads back to the motel.
6. Solvang Restaurant
1672 Copenhagen Drive, Solvang
The next day they have breakfast at the Solvang Restaurant in Solvang. Miles' mood is still rock bottom and the two almost have an argument. Luckily, wine is here to soften the atmosphere as they embark on a day of drinking in Santa Barbara's Wine Country.
7. Santa Barbara's Wine Country
They go on a nice drive through the beautiful vineyards of Santa Barbara's Wine Country. I don't know for you but this is really the one scene that made us want to go there ourselves!
8. Ostrich Land
610 E. Highway 246 between Buellton and Solvang
Director Alexander Payne takes the opportunity of this driving scene to feature some friendly-looking ostriches. In case you wonder, those beautiful birds are from Ostrich Land located between Buellton and Solvang.
9. Foxen Winery
7200 Foxen Canyon Road, Santa Maria
The first stop of the day for Miles and Jack is at the Foxen Winery in Santa Maria where they pour themselves some serious glasses as soon as the female sommelier turns her back.
10. Kalyra Winery
Kalyra Winery, 343 North Refugio Road, Santa Ynez
They continue with the Kalyra Winery where Jack succumbs to the charm of Stephanie (Sandra Oh). He scores a double-date for him and Miles with her and Maya and, in the process, buys a few boxes of wine.
11. Los Olivos Cafe and Wine Merchant
2879 Grand Avenue, Los Olivos
After Miles breaks down when learning that his ex-wife remarried, Jack still manages to convince him to behave nicely at the dinner at Los Olivos Cafe and Wine Merchant in Los Olivos. These precautions lead to the film's signature line: Miles' famous outburst where he utters:
'I am NOT drinking any f*cking Merlot!'

Miles
12. Bowling on Ocean Lanes
Ocean Lanes, 1420 East Ocean Avenue, Lompoc
Although he cannot totally shake off his malaise, Miles brightens up with a romance blooming between Maya and him. He takes her bowling with her daughter on Ocean Lanes. The building used to stand on 1420 East Ocean Avenue but has been demolished since then.
13. Alisal Guest Ranch
150 Alisal Road, Solvang
In comparison to Miles, Jack's approach to relationships, especially extramarital ones, is much more.. hmm let's just say aggressive. He still finds time to play golf with Miles at the Alisal Guest Ranch in Solvang.
14. Firestone Winery
5000 Zaca Station Road, Los Olivos
The newly formed quartet of Miles, Jack, Stephanie, and Maya escapes from a boring lecture at the Firestone Winery in Los Olivos by sneaking into the wine cellars.
15. Lompoc Farmers' Market
Ocean Avenue and l, Lompoc
Miles brightens up as he and Maya get closer and have a romantic stroll through Lompoc Farmers' Market.
16. Frass Canyon Winery
Fess Parker Winery and Vineyard, 6200 Foxen Canyon Road, Los Olivos
Unfortunately for Miles, this idyllic parenthesis does not last long and he soon learns that his novel will not be published. As a result, he tries to drown his sorrow at the Frass Canyon winery (in fact the Fess Parker Winery and Vineyard). Confronted with an unsympathetic waiter who refuses to quench his thirst, he has no choice but to drink the spit bucket. Did someone say 'Ewww!'?
17. Gaviota State Park, Highway 101
On the way back to Los Angeles Miles and Jack for a moment of peace and serenity at Gaviota State Park on Highway 101.
18. Aj Spurs
350 East Highway 246, Buellton
They then have dinner at AJ Spurs in Buellton where the incorrigible Jack scores a one-night stand with the waitress.
19. Burger Place in San Diego
Orcutt Burger, 1785 South Broadway, Santa Maria
After Jack's wedding, totally bummed out by seeing his ex-wife with her new husband, Miles ends up at a burger place in San Diego (actually Orcutt Burger in Santa Maria). There he enjoys his inestimable Château Cheval Blanc Saint-Émilion from 1961 in a paper cup.