Spring, Summer, Fall, Winter… and Spring Filming Locations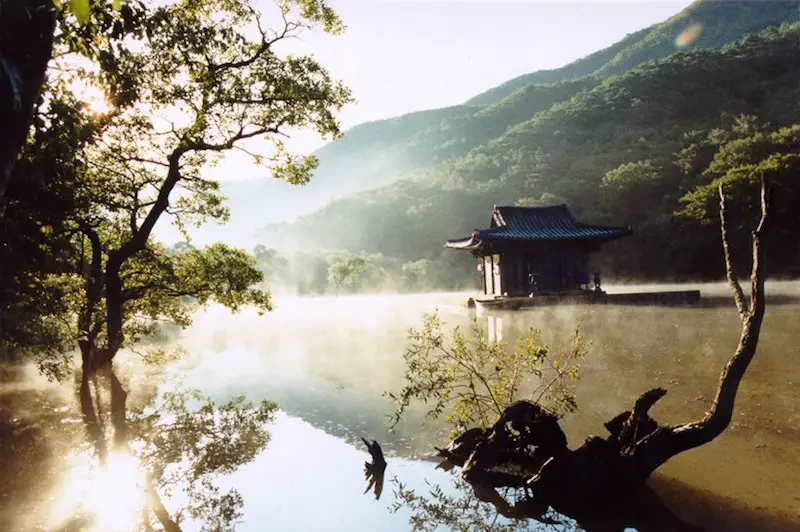 Introduction
Spring, Summer, Fall, Winter… and Spring is a 2003 South Korean film directed by Kim Ki-duk about a Buddhist monastery that floats on a pristine lake surrounded by stunning nature. It follows a monk through the different stages of his life, from childhood to adulthood, with each season evolving around the major turning points that will profoundly shape his existence.
The film is an amazing journey with contemplative scenes that beautifully stretch with little dialogue. The slow rhythm of the film draws us into a deeply introspective and poetic experience that appeals to all senses with its breathtaking shots.
At the center is the hermitage where the monks live, floating yet steady through the seasons in perfect equanimity, as a mirror to the old monk subtly guiding his student through life. Ageless—the film only gives a few clues about the period it takes place like jeans and cellphones—, it stands as the gateway between nature and men, the sacred and the mundane.

Spring, Summer, Fall, Winter… and Spring was filmed in South Korea. Continue reading below to discover the amazing filming location behind Kim Ki-duk's masterpiece.
Maps
1. Monastery on Jusanji Pond, South Korea
The monastery featured in Spring, Summer, Fall, Winter… and Spring is actually a set specially built for the film on top of the Jusanji Pond in Mt. Juwangsan National Park in South Korea.
Jusanji Pond is an artificial lake created more than 200 years ago. The lake exudes a mystical aura with the surrounding beautiful nature reflecting in the pond and one hundred years old willow trees still growing on its shores.
It took 6 months of negotiation for the production of the movie to convince the Ministry of Environment to agree to build the set. Most of the film budget went into the construction of the monastery which cost close to $330,000. The hermitage was subsequently dismantled for environmental reasons.
Didn't you know beforehand how the world of men is? Sometimes we have to let go of the things we like. What you like, others will also like.

Old Monk
Practical information
How to get there? Mt. Juwangsan National Park where Jusanji Pond is located is about 10 hours away by public transportation from Seoul. If you are traveling from Seoul, flying may be an easier option (1 hour to Pohang Airport).
Useful resources
Official Korea Tourism Organization