The Way Back Filming Locations and Itinerary from Siberia to India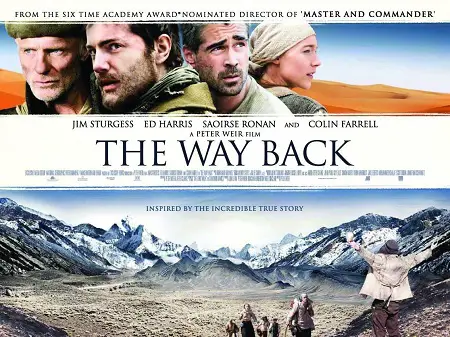 Introduction
The Way Back is a 2010 movie that tells the story of a group of prisoners who escape from a Gulag in Siberia. It is based on the story of Sławomir Rawicz, although it's not clear whether all the facts are true.
In The Way Back the prisoners reach China after passing by Lake Baikal and crossing the Gobi Desert in Mongolia. They continue their trip through the Himalayas to reach the capital of Tibet, Lhasa. This extraordinary itinerary ends with Darjeeling in India.
Quite an inspiration for adventurous holidays but don't be fooled: The Way Back filming locations are actually mostly in Bulgaria and Morocco. Only the scenes in India were actually shot in India. So no Lake Baikal or Gobi Desert but that's just one more reason to go check these destinations by yourself!
Maps
1. Gulag (Prison) In Siberia, Russia
Nu Boyana Film Studios, Sofia, Bulgaria
The first of The Way Back filming locations is the Nu Boyana Film Studios in Sofia (Bulgaria) where the Siberian Gulag camp at the beginning of the movie was built from scratch.
2. Lake Baikal, Siberia, Russia
After walking through the snows of Siberia, the group of escaped prisoners reaches Lake Baikal.
These scenes were apparently shot in Vakarel (Bulgaria) with the Lake Baikal digitally added.
3. Gobi Desert, Mongolia
Erfoud & Ouarzazate (Morocco)
Our protagonists plan to reach Ulaanbaatar (Mongolia) but after realizing it's under Soviet control they decide to take their chances through the Gobi Desert to reach India.
Most of the Gobi Desert scenes were filmed in Erfoud and Ouarzazate in Morocco
4. Great Wall of China
Sofia & Vakarel (Bulgaria)
The long and deadly crossing of the Gobi Desert finally ends when the group reaches China and its Great Wall marking the border with Mongolia.
Like Lake Baikal, the Great Wall was digitally added to the movie scenes.
5. Lhasa, Tibet
Sofia & Vakarel (Bulgaria), Darjeeling (India)
After going through the Himalayas, the surviving escapees reach the capital of Tibet, Lhasa, where they can finally get some rest and peace of mind.
6. Darjeeling, India
Darjeeling, India
The final destination of this extraordinary journey for the main character Janusz Wieszczek (fictional alter-ego of real-life Sławomir Rawicz) is Darjeeling in India.
It is the only "real" filming location of the movie since the scenes in Darjeeling with the tea fields were actually shot there.