Tracks: The Incredible Trek of Robyn Davidson in the Australian Desert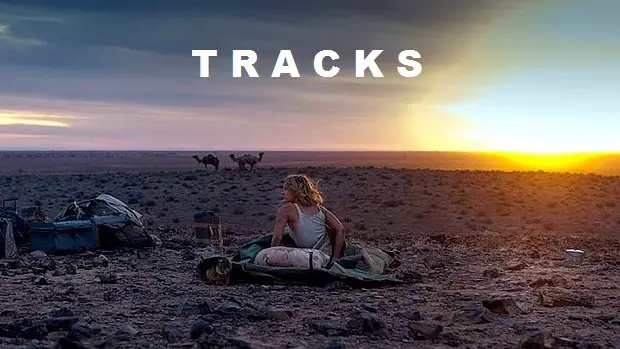 Introduction
Tracks are the incredible adventure of Robyn Davidson, who trekked 1,700 miles (2,736 km) across the Australian deserts from Alice Springs in Central Australia to the Indian Ocean coast. Robyn wrote the story of this 6-month initiatic journey with her dog and three camels in National Geographic and later in a novel, Tracks, that was adapted to the screen in 2013 by John Curran.
Thanks to its breathtaking sceneries and powerful narration, Tracks, the film, is an amazing sensory experience that leaves a deep impression and naturally appeals to the nomad in every one of us.
Some nomads are at home everywhere.

Others are at home nowhere,

and I was one of those.

Robyn Davidson
If you are looking to follow the footsteps of Robyn Davidson, have a look at LegendaryTrips' recommended 2-week Australia itinerary going through some of the landmarks visited by Robyn like Uluru / Ayers Rock.
Maps
1. Camel Training
Robyn Davidson (Mia Wasikowska) learns to train camels in Alice Springs (Central Australia). Imported from Arabia, India, and Afghanistan during the 19th century, camels strived in Australia to the extent that the populations of Australian feral camels reached about one million in 2008 and was considered a pest for the environment.
2. Uluru / Ayers Rock
Robyn Davidson (Mia Wasikowska) reaches Uluru / Ayers Rock, one of Australia's most famous natural landmarks and a sacred site for Aboriginal Australians.
3. Robyn & Eddie
4. Indian Ocean
Robyn Davidson reaches the Indian Ocean after an extraordinary 1,700-mile (2,736 km) trek through the deserts of Western Australia.
5. Filming
Mia Wasikowska and Robyn Davidson on the shooting of Tracks in Australia.