Brazil in 3 Weeks – By William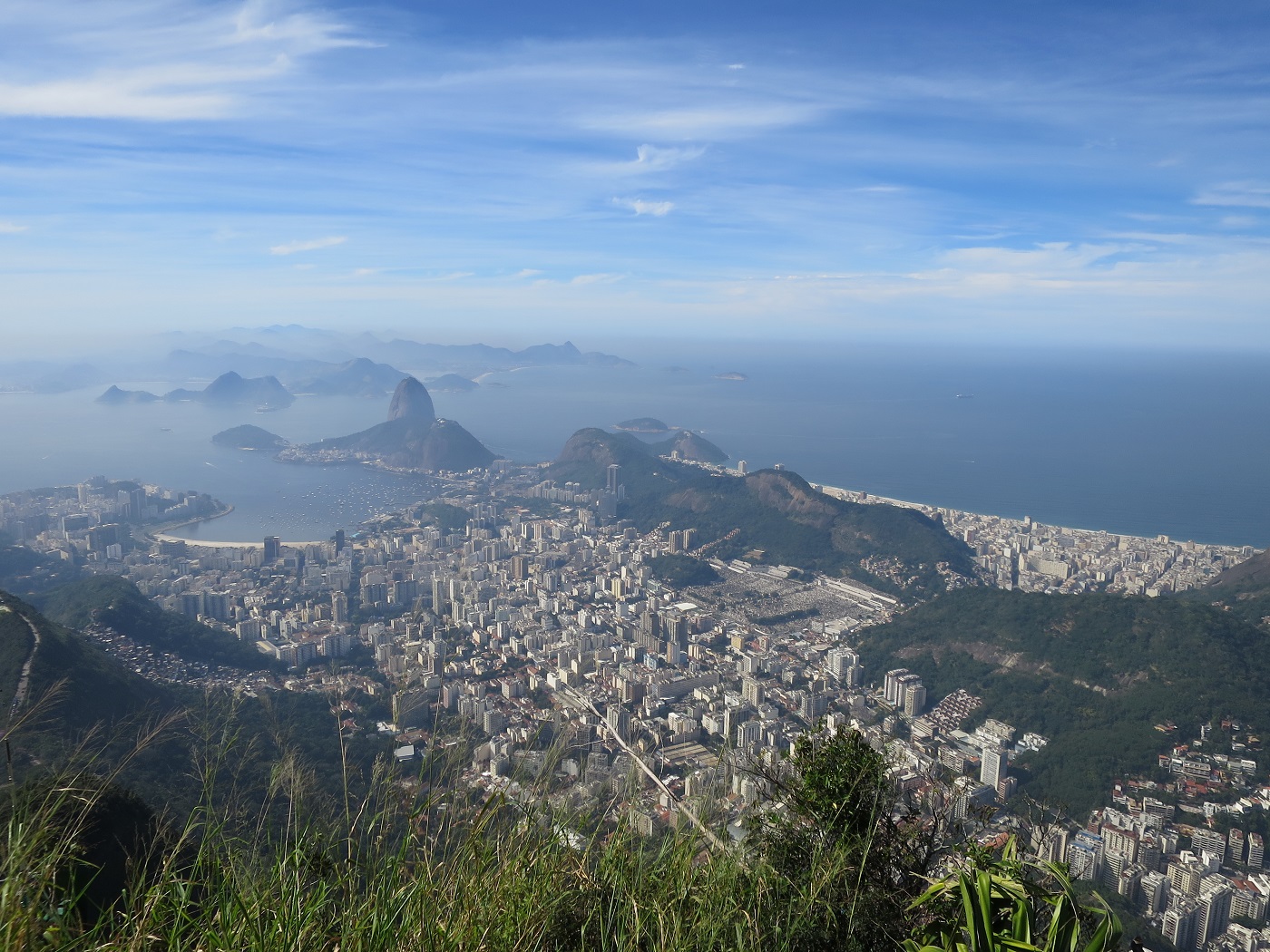 Introduction
We've been traveling in Brazil for 3 weeks in July 2015. A wonderful place to spend your vacations whether you like nature, beaches, music or just visiting cities.
This trip took us from Sao Paulo to Iguaçu Falls, then to Rio, Petropolis, Paraty, and Ilha Grande, and to finish, Salvador and the Chapada Diamantina National Park. The Brazilians were very kind to us everywhere we went!
The food is quite good (the meat is excellent) but you definitely have to drink a few Caipirinhas. There are so many different kinds of cachaças (the alcohol you use to make Caipirinhas which is made of sugar cane), that every single caipirinha you'll try will be different from the other. The best cachaça is from Salinas, so the best caipirinhas are prepared with this kind of cachaça. Those who don't drink alcohol, have the best fruit juices I've ever drunk.
If you're in Brazil on a Saturday, you have to eat the Feijoada. It's the traditional Brazilian dish that's usually served on Saturdays at lunch. Basically, it's a stew with pork, beef, and sausages with beans and it's served with rice, manioc, and herbs.
Favorite destinations:
1 – Iguaçu Falls for the numerous falls and the beauty of the National Park
2 – Rio de Janeiro for its atmosphere
3 – Salvador de Bahia for the cultural impact of Africa on the city
Maps
Days 1-3: São Paulo
Well… Not a lot to say about this city. It's huge with highways that span around the city like a spiderweb. Lots of traffic. Everything is new and the few « historic » buildings are around 100 years old.
As our friend's dad was a bit paranoid about security, we were driving in bulletproof cars. Ok, the city is not that safe, especially at night, but we felt a bit oppressed by the atmosphere of the city.
If you have a choice, don't stop there… If you have to and you're a football fan, go to the Morumbi Stadium to see a Sao Paulo FC game. It's the 2nd most famous stadium in Brazil after Maracana.
Days 4-5: Iguaçu Falls
I can't even find the proper word to describe the falls… The falls are probably the most beautiful thing we've ever seen…
First, you need at least 2 days to enjoy the falls properly. The falls are on the border between Argentina and Brazil, therefore, there are 2 different parks that you can visit. You need 1/2 day for the Brazilian side and 1 day for the Argentinian side.
Both are really beautiful but we preferred the Argentinian side because we could take a boat and go on the river very close to the falls. Lots of wildlife on both sides: mostly birds and what we called « Not raccoons » (they look like raccoons but they're not raccoons).
There's a fancy hotel on the Brazilian side. You can't miss it, it's pink! When you take the bus from the visitor center to the falls, it'll be on your left-hand side. They make excellent caipirinhas!
Piece of advice when you spend the day on the Argentinian side: don't bother changing cash in Foz do Iguaçu or Puerto Iguazu, there's an ATM at the entrance of the visitor center of the park. Bring your own food!! The food they sell is awful!
Days 6-9: Rio de Janeiro
An entire article would not be enough to describe the city and its atmosphere, so I'll just sum up a few things that are worth seeing:
Copacabana Beach, Ipanema Beach, Pao de Acucar, Corcovado, the Botanical Garden, Santa Teresa, the Selaron Steps, a game at Maracana Stadium, a favela (always go with a local)…
The atmosphere of this city is amazing. You feel the party spirit of the Cariocas (the people of Rio) and you hear music everywhere you go. As bossa nova fans, we stopped in many bars and stands on the beach to listen to some live music.
If you're in Rio for the first time, stay in Copacabana. If it's not the first time, I would recommend Santa Teresa.
If you like good meat, book a table for dinner at Porcaos Rio, it's the best churrascaria in town! It's an all-you-can-eat buffet and they bring you barbecued meat whenever you want!
Days 10-12: Petrópolis and the Serra Dos Orgaos National Park
Petrópolis is the former imperial capital of Brazil (when Brazil was an empire in the late 19th century) and is located 70 km north of Rio. To go there from Rio, simply take a bus from the Rodoviaria. Petropolis is a beautiful town. Lots of old houses that belonged to the local nobless back in the 19th century. Don't go there on a Monday, all the museums are closed. It's a nice stop before going on a trek in the Serra dos Orgaos National Park.
For the trek in the Serra dos Orgaos National Park, you have a few possibilities: the « Travessia » either from Petropolis to Teresopolis or from Teresopolis to Petropolis or the Pedra do Sino trek which we did. Just so you know, the « Travessia » is a very hard 3-day trek but it's one of the most beautiful in Brazil!
As I mentioned earlier, we took the Pedra do Sino trek which is a 2-day trek. I didn't think it was that hard so I guess anyone could do it.
The first day is the way up to Pedra do Sino (2 263m). You start the trek from Teresopolis which is 1 000m high. As you can see, there's a significant height difference but it's totally doable. When we were at the top of the mountain, we saw clouds all around us which made us feel like we were on top of the world! Wonderful sight! The sunset was amazing. You spend the night in a refuge and the 2nd day is the walk down to Teresopolis.
We went back to Rio after the trek just to spend the night.
Day 11: Paraty
We took a 4-hour bus from Rio to Paraty. The road is beautiful as most of it runs along the coastline. Paraty is a little town full of old colonial buildings.
Although there were a lot of tourists, we both liked it. It's definitely worth spending 1/2 day or 1 full day.
Days 12-14: Ilha Grande
A paradise on Earth… Perfect place to chill out for a few days, go scuba diving or walk to the different beaches of the island.
Lopes Mendes beach, the most beautiful beach of the island is located on the opposite side from Abrao (the main city of the island) and you have to take a 2.5-hour hike to go there. You can also take a boat and walk for 15 minutes. I recommend walking to go there and take the boat back.
The city of Abrao is not that nice, the locals fight with one another (we were awakened by a huge fight next to our hotel at 6 am…) and the food is terrible. But if you want to sit back and relax, it's the perfect spot. For those who love scuba diving, there are many companies that can take you to the best spots around the island.
Day 15: Rio de Janeiro
Back in Rio for a day to spend some more time with our friends.
Day 16: Salvador de Bahia
Salvador de Bahia… The most African city in Brazil… You can feel the legacy of slavery in this city. The old city, yet extremely touristic, is full of life and history. Every building in the historic district is protected by the government and there's even a rule that says you can't do any improvement work in your house! The government will do it to keep the buildings in their original shapes/colors.
The bad thing about Salvador is that it's not safe at all! Mind your pockets! Don't wear any jewelry, fancy watch, designer clothes… and be careful when you take out your cell phone or camera. But except that, Salvador is one of the most beautiful cities in Brazil.
The historic district was declared a World Heritage Site by UNESCO in 1985. It's also in Salvador that you can eat the best food in Brazil.
What you must do is go to a capoeira show! I recommend Master Bimba who is one of the most famous and best in the city. The show lasts 1.5 hours and the fighters dance with the audience from time to time. It's really impressive but bring earplugs!
Once every 2 weeks, the most famous drum band in Salvador gives a concert. The band is called Olodum (they're the ones from Michael Jackson's « They don't care about us » video). We saw a drum concert in the streets on our first night but even though it wasn't Olodum, it was great! Everyone was dancing in the street! Great atmosphere!
Days 17-20: Chapada Diamantina National Park
A very beautiful trek! Located no less than a 6-hour drive away from Salvador de Bahia, the Chapada Diamantina National Park is one of the most beautiful in Brazil. It's full of waterfalls, mountains, cliffs, rivers, wildlife…
The highest waterfall in the country is located in the park. But let me warn you, this trek is hard! You have to carry your backpack with around 10kg of clothes, a sleeping bag, food, and so on and the trail can be very steep (you even have to climb a few meters of rock from time to time). Be in a very good physical condition should you decide to take this wonderful trek.
We spent the first night in a hotel in Lençois and the 2 others in the wild next to a river. Just so you know, you can drink the water in the park so don't carry liters of water.
Days 21-22: Salvador de Bahia
Just a couple of days in Salvador to relax after our trek. Since it was during the weekend, it was not recommended to go to the other parts of the city. We just stayed in the historic district to feel the local atmosphere.
If you like musical instruments, I recommend going to Master Lua Rasta's shop. He makes the best drums in Salvador.
Practical information
For your information, Brazilians speak very little English, so try to learn some Portuguese before going there.
Also, it's very hard to withdraw cash from ATMs! You can only go to Banco do Brasil (limit of R$500/day) and Bradesco (limit of R$800/day).
If you don't have a lot of time, fly from one city to the other! If you buy your tickets in advance, they can be very cheap. You can fly either Tam or Gol, they're about the same.
Anywhere you go, don't wear fancy clothes/watch/jewels and you should use a compact camera instead of a DSLR for safety reasons. Keep your phone in your pocket and your cash in different places (wallet, pockets, socks…). We didn't have any problem during our trip but it's information worth having to avoid.